There are many benefits when writing with Scrivener. I started using Scrivener only last year, before I joined my first Nanowrimo. I have read other writers raving about it and I was intrigued. Of course, I did my research before buying it.
I didn't need the extra expense and tried the free trial first to see if I liked it. It was magic. I bought the software (it's a tax deduction too!) and used it for the November writing challenge.
Here are the reasons why I love using Scrivener.
Major organiser
Scrivener allows you to plot your story easily using a virtual corkboard. I've plotted before on a notebook, but having everything up there chapter by chapter made it easy for me to change the plots as I went along. If I had to move things around, I only had to copy and paste. It also allowed me to go through all the plot points without having to flip pages around.
There is also a Character section on Scrivener which allows you to create the characters fully before delving into the story. It really helped me when I was doing Nanowrimo because I already created the characters' traits, attitudes, issues etc before starting the novel. This allowed me to know the characters already and how they reacted to certain situations.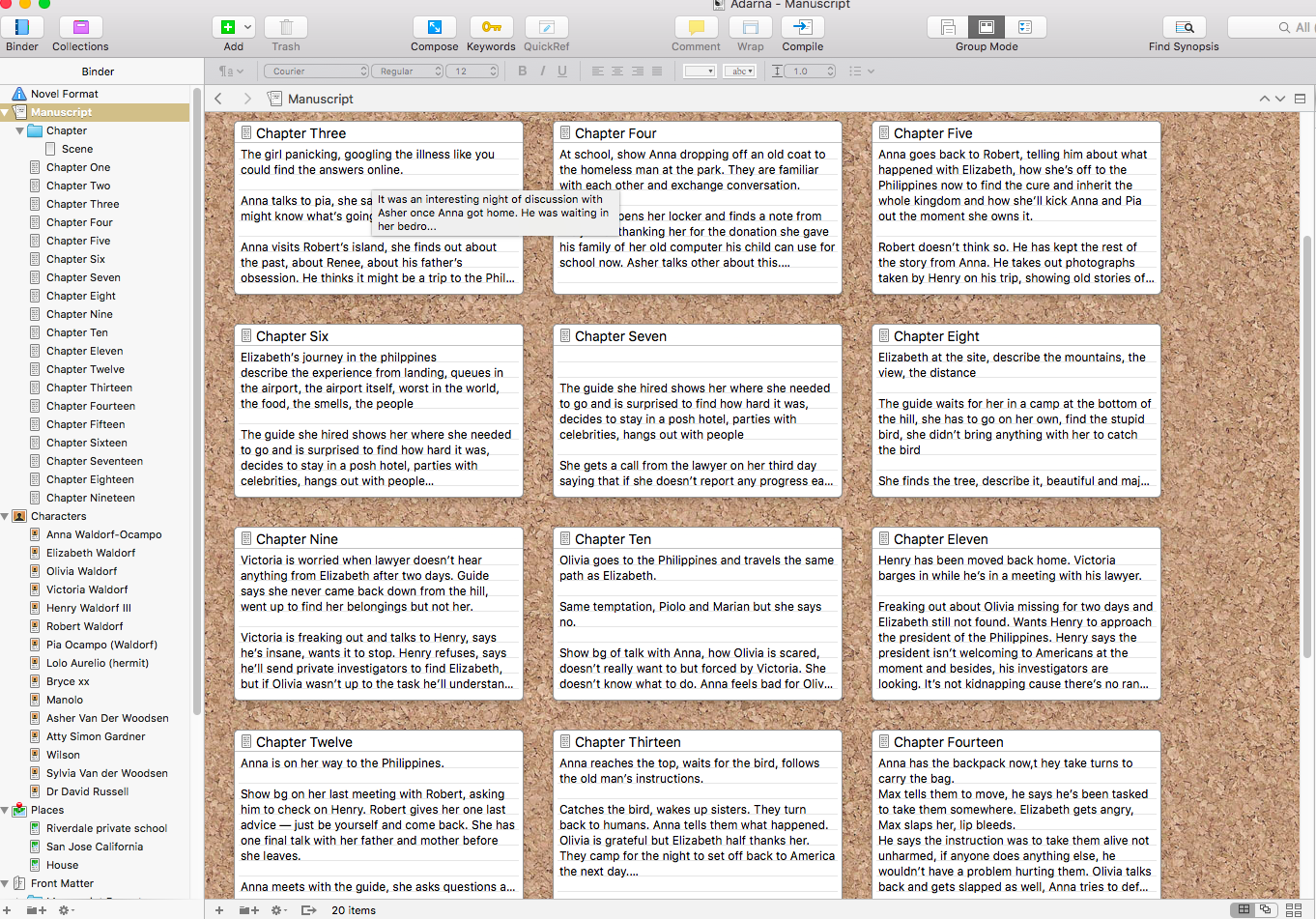 Research at your fingertips
I loved the section where you can dump all your research. It made everything so convenient. I had a specific look in mind that I wanted for my characters. I also had an idea about the places, settings etc. All I had to do was Google the images that inspired the look and dragged and dropped them to the photos section on Scrivener. When I needed the inspiration to describe the characters and places, I simply looked at the photos in the folder again. Articles and links can be dropped, too. This was a very handy tool for me as I needed to describe a part of the novel really well and had to refer to the image constantly.
Makes reviewing easy
With the chapters having their own individual sections, it was easy to flick through the chapters to see any continuity issues. I didn't have to scroll through the whole book to see what I wrote on the previous chapter. You can also place your plot notes on the sidebar so you can review your plan as you go along. It was easy to remember the characters' full names too because the sidebar contained all their names, titles etc. If I forgot the physical description of one character, I just click on it and read what I wrote then go back to writing.
When you're done writing, there is a way to compile your chapters into a manuscript in formats like .doc or .pdf.
I'm sure I'm only using the most basic features of Scrivener but so far it's working for me. One day I'll go through the tutorial and see what other features I can use.
Some people might have second thoughts about spending the money for yet another writing app, but Scrivener is a great investment. You won't regret it.