The Girl Between Light and Dark and other news
I have been getting queries about book two of The Girl Between Two Worlds. So I thought I should write extensively about it.
Book two is going to be called The Girl Between Light and Dark. It will follow Karina's journey in Engkantasia where she will meet new characters. She will be facing new problems and enemies, as well as new responsibilities.
I had hoped to finish the book earlier so it could be released this year, but unfortunately life can get quite busy.
So where are we on the book journey?
Well, I just finished editing the second draft of the book so that's all good. The artist is creating the illustrations and the cover as we speak. It's best to just leave it alone so we don't disturb them. I haven't seen the illustrations or the cover so it's all very exciting.
What I'm doing while waiting
I wish I could say I'm just writing all the time. That is the dream. But I'm not. My working hours are divided between my day job and novel writing. At the moment, I am 25,000 words into a new manuscript in the New Adult genre. I can't tell you much about the plot yet except that it is also in the urban fantasy genre. Having said that, I might have to pause this manuscript soon if I end up needing to edit another manuscript I already finished writing. I am trying to finish a couple of projects, which is daunting but fun. I just need to learn how to budget my time properly.
Some other news
Aside from The Girl Between Light and Dark, I am also reaching out to various classrooms and writers groups. I've been giving my time to writers and students who want to ask me questions about writing. Thanks to technology, it is now easier to Skype with classrooms overseas.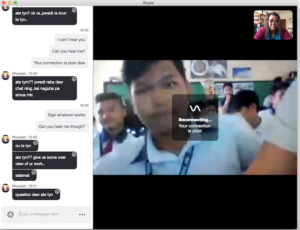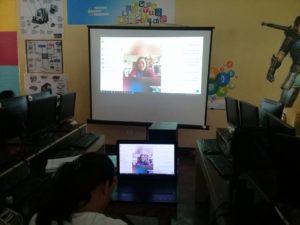 Recently, I had the wonderful opportunity to speak to a class in Cagayan de Oro, Philippines – Pedro "Oloy" N. Roa Sr High School, Grade 11 TVL-ICT, TVL-HE and GAS classes – about writing and literature. It was a great experience for me and I hope the class got something out of it too.
So if anyone wants to do the same, feel free to contact me.